Founded in 1889, the choir has an established reputation as the leading symphonic chorus in the South West and has gone from strength to strength under the leadership of our Musical Director Hilary Campbell
Bristol Choral Society is a charity and our purpose is
"to educate ourselves and others in the art of choral singing and to contribute to the culture of the community by the presentation of choral concerts and other activities."
Members are drawn from Bristol and the surrounding counties of Somerset, Wiltshire, Gloucestershire and South Wales, encompassing all ages from students and young professionals to the recently retired, from all walks of life.
The choir normally rehearses every Wednesday evening during term times in central Bristol and stages at least four classical choral concerts each season in Bristol with professional orchestras and soloists.
The choir's repertoire ranges from major traditional choral works by Mozart, Handel, Fauré to contemporary works by Chilcott, McDowall and Weir. This year we were honoured to perform the world premiere of '
A Memory of the Ocean'
by young composer Grace-Evangeline Evans.
The choir was delighted to have produced its first commercial recording, The Big Picture, with Delphian Records in 2020. The CD is currently available in our
online shop
.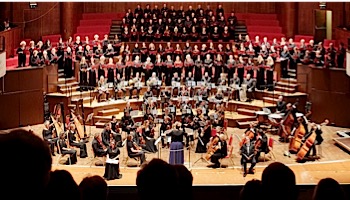 Bristol Choral Society is proud of its long history and contribution to the musical and cultural life of Bristol and the wider region over the last 130 years, and actively encourages the next generation in the pursuit of singing and music through a range of youth development and outreach activities with schools and young people.
At the Making Music award ceremony, held in September 2021, Bristol Choral Society was delighted to win 'best project with a focus on new music'.
At the same awards Hilary was honoured to be awarded 'best vocal group music director'. Read more
here
Similary the choir was thrilled to be awarded the RPS Inspiration award which was decided by public vote. Read more
here

New members are always welcome! Read more here about joining the choir

Please click here to read our data protection policy