Our history
1889. No telly, no recordings, no music-technology of any kind. But plenty of front-parlour singing. And that's how it all began: groups formed, merged, joined forces with the Cathedral Amateur Choral Society and finally grew into the Bristol Choral Society.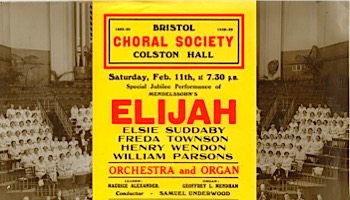 Eminent musicians such as Parry and Stanford were enlisted amongst the 200 (!) honorary members, a committee of 38 (!) established and it all culminated in an equally inflated inaugural concert in 1890 featuring Mendelssohn's St. Paul – with no fewer than 610 performers (510 of them singers!)
With such a long history – 133 years and counting – it's all but impossible to log all the highs and lows of this prestigious choral society; or, indeed, to list all the notable names we have worked with. That said, Parry, Elgar, Wagner, Boult, Beecham and Mackerras have all taken the baton as guest conductors at one time or another; whilst one of the rewards for the choir's competence has often taken the form of invitations to sing away from home with other distinguished choirs and orchestras.
Recent stand-out performances include Mahler's 'Symphony of 1000' in St David's Hall, Cardiff with the National Chorus and Orchestra of Wales, 'Missa Solemnis' with CBSO in Symphony Hall, Havergal Brian's extraordinary and rarely performed 'Gothic Symphony' as a sell-out prom in the Albert Hall and a 'tour' of Beethoven 9 (in German, from memory!) with Sir Charles Mackerras which took in many of the country's most prestigious venues (including the Royal Festival Hall).
Time passes, things evolve: the past two decades have seen the introduction of a policy for working with young people, a scheme for Choral Scholars, a slimmed down committee, the choir's first CD and an expanding repertoire – though 'Messiah' remains a regular (but with an orchestra of 14, choir of 150 or so and sung entirely from memory, in contrast to the earliest performances!)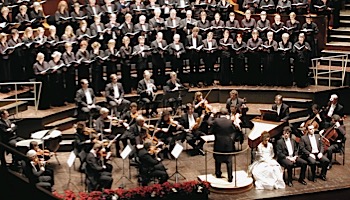 All choirs reflect the skills of their Musical Directors and the past two decades have seen us really develop under the strikingly effective guidance and leadership of Adrian Partington, Hilary Campbell and Assistant MD, Steve Kings.
A long and varied history, then. But perhaps the best is yet to come. Join us – and become part of that journey.