With a donation...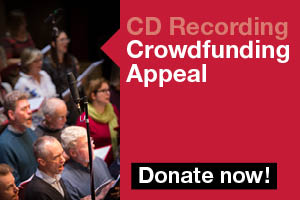 We are offering a unique opportunity to support the choir in this new recording project.
Conducted by Hilary Campbell and produced by Delphian Records it will feature the first ever recording of works by three female composers, Judith Weir: Praise Him with Trumpets, Elizabeth Poston : Festal Te Deum and Grace-Evangeline Mason: A Memory of the Ocean. The choir gave the world premiere of that piece in June, commissioned by the Royal Philharmonic Society and supported by the Ralph Vaughan Williams Foundation, in celebration of the 150th anniversary of Vaughan Williams's birth.
The recording will also feature a work by Vaughan Williams: O Taste and See, plus Britten's Rejoice in the Lamb and Holst's Psalm 148, as well as some beautiful solo pieces sung by Soprano Charlotte Mobbs accompanied on piano by Steven Kings: Cecilia McDowall: Four Shakespeare Songs, Elizabeth Machonchy: Ophelia's Song and Vaughan Williams: Orpheus with his Flute.
For just £50, you will get a free copy of the CD, have your name listed in the liner notes and get an invitation to the launch event. The money raised will help to pay for the recording venue, the soloists and of course for the professional production team who are vital to the success of this project.
You can donate using the button below or contact
webmaster@bristolchoral.co.uk
for further information.