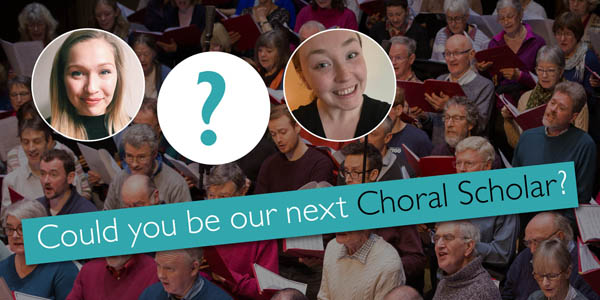 A particularly innovative scheme in our choir is that we recruit up to four paid choral scholars each year, who are young rising stars, often just starting out on their solo careers. You yourself may want to apply for one of these positions, or you may know people who would be keen. Do please pass on the word!
Right now, we have two soprano choral scholars, and we are looking to recruit alto, tenor and bass scholars. Scholarships can start at any point in the season and are worth £1000. They are ideal for aspiring professional singers aged between 18 and 30, wishing to develop their choral singing and sight-reading and to broaden repertoire knowledge.
They should be prepared to attend rehearsals and to sing in all our performances. Solo opportunities and small ensemble performances also come up during the season, and the choir delights in such brilliant voices in their midst. Rehearsals take place on Wednesday evenings at Broadmead Baptist Church, Bristol. Not only do our choral scholars gain from being part of this amazing musical opportunity, but they also take an active role as ambassadors for the choir on social media and elsewhere.
For further information and application forms please visit
http://bristolcs.makingmusicplatform.com/scholars