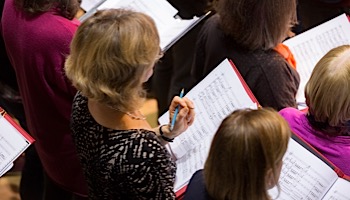 This coming season in 2021/22 is going to be exciting, as we get back to live concerts, and is a great moment to join the choir, if you'd like to give us a try.
Tenors and basses are particularly needed, but don't worry if you are 'just an alto': you'll find a warm welcome! You can try us out by attending a few rehearsals before having a (very friendly) audition to join as a full member. Rehearsals are held on Wednesday evenings 7-9.00. All ages are welcome and we are proud of having a wide age-range of singers in the choir from 14 years upward.
So if you think you might be interested, just fill in the form here or contact our chorus manager: bcschorusmgr@gmail.com
And here is a taste of the repertoire we have covered during the Pandemic. All of this is soon to be coming to a concert hall (or cathedral) near you:
Mozart: Alma Dei Creatoris; Regina Coeli
Finzi: Lo, The Full Final Sacrifice
Imogen Holst: Three Psalms
Bainton: And I Saw a New Heaven
Elizabeth Poston (first public performance): Festal Te Deum
As you can see, we cover both well known favourites alongside new and exciting challenges.
Check out our virtual recording of Rachmaninov here https://www.youtube.com/watch?v=GdqV87fP5CI
And all our news here:
https://www.bristolchoral.co.uk/news