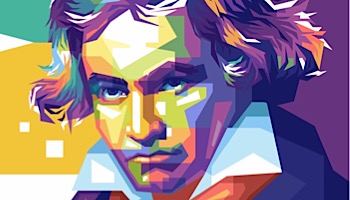 Happy New Year to all our friends and audience members!
Bristol Choral Society is delighted to announce the start of a new season for 2022, and with all hopes that more live concerts will go ahead during this coming year. We vastly enjoyed singing the Messiah again just before Christmas, and were so pleased that our audiences also expressed their pleasure at being back in the rhythm of festive choral offerings!
Our upcoming concert now will be just as popular, as it features an all-Mozart programme. So hurry to get your tickets for the 26th March. We'll be in the beautiful setting of Bristol Cathedral, as usual these days. But the tickets are being organised now via a different route - so just follow this link:
https://3choirs.org/book
or call the ticket office 01452 768 928
Tickets are from £11 to £28, with our usual deal for under 25s at £5
(Please note there is also a £2.50 booking fee)
We are again planning for socially distanced seating, to keep everyone safe, as that worked well at Christmas in the vast spaces of Bristol Cathedral.
You will all know by now our amazing conductor, Hilary Campbell. She has been the recipient of prestigious awards over the last year, and with justification. Throughout the pandemic, the choir rehearsed under Hilary's baton on regular Zoom rehearsals, and in fact our rehearsals are still optionally on Zoom as well as in-person. Hilary and the choir have learnt new ways of tackling music, even though initially of course the option of singing remotely was simply a practical reaction to lockdown. Now we see it can give us even greater flexibility.
The programme for the upcoming Mozart concert was one of the first that we learnt via our Zoom rehearsals, more than a year ago now. And it was so uplifting and magical to be making music in this way, despite all the problems we were facing. Mozart doesn't fail to keep our spirits up, and we are sure you will find the same in our concert in March.