Description: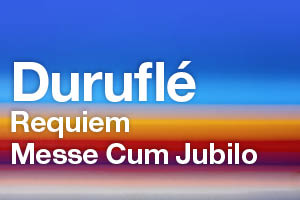 Duruflé: Requiem
Messe Cum Jubilo
Prélude et Fugue sue le nom d'A.L.A.I.N

Bristol Choral Society
Conductor: Hilary Campbell

Organ: Richard Moore
Mezzo-soprano: Martha McLorinan
Baritone: Lawrence White

Cello: Lorna Davis

Clifton Cathedral is the setting for the beautiful Duruflé Requiem. The Requiem is one of the most beloved choral compositions of the 20th century. Reminiscent of Faure's Requiem, which the choir presented a year ago in the same venue, Durufle's text intentionally focuses on inner peace and eternal rest.
The audience will also be treated to Durufle's Messe cum Jubilo, a work for lower voice parts only, and will also have a chance to hear the great organ in Clifton Cathedral, with the solo 'Prelude et Fugue sur le nom d'Alain'.